Last week, Berlin Atonal held its sixth edition at the city's Kraftwerk building since returning in 2013, with festival favorites such as Regis, Samuel Kerridge and Fis appearing on the lineup with acts like Pariah and Machine Woman appearing alongside newer faces like object blue, Lanark Artefax and Eris Drew. As Scott Wilson found, it's turning into one of the world's best festivals to discover new sounds.
On August 17, German newspaper Der Tagesspiegel reported that metro operator Deutsche Bahn was to experiment with playing atonal music around the city's Herrmannstraße station in an effort to reduce crime. The thinking – based on studies of "non-expert" listeners – was that it would heighten anxiety and discourage criminal activity around the station, which many people read as Deutsche Bahn's codified way of saying it wants to disperse the homeless community that frequently use the public space as shelter.
Within a few days, experimental music fans in Berlin had organized a listening event at the station to protest the plan – or, simply to highlight how ridiculous it was. This felt particularly ironic considering the city already has a five-day celebration of divisive, often dissonant music, hosted in the imposing Kraftwerk building: Berlin Atonal. Unsurprisingly, the festival's co-curator Laurens von Oswald found himself on the BBC World Service trying to explain why people would willingly attend such an event, the presenter oblivious to the city's rich history of experimental music.
Although Berlin Atonal's programming is more in the tradition of Einstürzende Neubauten than Schoenberg or any other 20th century composers that experimented with atonality, its curation has become increasingly wide-ranging over the six-year lifespan of its current iteration (it ran in a different form from 1982–1990). The series of livestreams that FACT hosted at Atonal this year was a microcosm of how varied the lineup has become in recent years: there was improvised music from Fis and tombak player Mohammad Reza Mortasavi, avant-garde jazz-rap fusion from Japanese duo Killer-Oma, modular techno and noise from New York's Hiro Kone (streaming below) and experimental beats from club producer object blue.
On the main lineup, Atonal felt particularly refreshed, tapping not just into the experimental techno and big room ambient that have become its calling card, but hardcore, jungle, D&B, rave, house and experimental club. At one point, Chevel even dropped the vocal from Wiley's 2013 track 'And Again' in his live show; it wasn't exactly a proper grime set, but this was a jarring, unexpected moment nonetheless.
And for anyone desperate for the shock and awe of Atonal's main stage (the giant turbine hall at the heart of Kraftwerk), the programming didn't disappoint. Robin Fox's set on Wednesday showed the space at its best, as a mesmerizing laser light show reacted to Fox's raw sonic pulses. Actress, who played the main stage on Saturday night, delivered one of the best sets of the festival, teasing the crowd with 20 minutes of ambient noise before settling into a broken pattern of kicks and sour chords. The visuals were like Ryoji Ikeda tempered with medical-grade greenery, a combination of scrolling geometric shapes and spinning CGI body parts.
The turbine hall was also a great place to hear ambient and downtempo performances. Astrid Sonne's set, which moved from solo violin with effects through bright arpeggios, closing on a choral performance, was stunning. Pariah, who played music from his recent album Here From Where We Are, seemed to get lost in a mist of dry ice and audience chatter, though it was clear from the large number of content listeners lying on the floor that his set was very much appreciated by tired bodies and minds in need of relaxation.
Caterina Barbieri blurred the line between club music and meditative listening with her set on Sunday, which combined music from last year's Patterns of Consciousness with new material that sounded like the kindred spirit of Lorenzo Senni's pointillist trance. Outer Space – the duo of former Emeralds member John Elliott and Drew Veres – also moved between colorful kosmische and abstract dub techno in their set, which suggests a promising new direction for their next album.
Trance was one of the main stage's recurring motifs. Claude Speeed deconstructed the big room sound during his set, which borrowed heavily from last year's Infinity Ultra, while The Transcendence Orchestra – Surgeon and Dan Bean – invoked a trance state through drone. Kangding Ray and Sigha meanwhile, collaborating as Neon Chambers in their first ever performance, unashamedly hijacked trance's signature sounds with mixed results.
The most adventurous programming of the week took place in OHM, the smaller club space that occupies Kraftwerk's former battery room. Beatrice Dillon, Batu, Machine Woman, Lena Willikens and Rezzett all played great sets, but the space also offered us a chance to hear Sybil Jason playing Haitian folk music and discover the hazy and nostalgic but equally abstract sound of Gothenburg DJ ishi vu. The most memorable OHM performance came from object blue, whose live set of frenetic club rhythms provided one of the festival's most refreshing performances. As the smallest space though, it was prone to overheating and overcrowding on the dance floor, making it uncomfortable over long periods.
Overall, Atonal's highlights were the performances that broke the festival's mold completely. Gábor Lázár's set on the Wednesday brought a rave spirit to the usually gloomy Stage Null, illuminating the space with flashing LED lamps and digital frequencies that pushed against the space's challenging acoustics. It was a talking point for lots of people I spoke to afterwards. I'm kicking myself that I was too tired to make Peder Mannerfelt and Par Grindvik's Aasthma set early on Sunday morning on the same stage, which saw dancers, backing singers and a full-on stage invasion and by all accounts was an absolute rager.
Konx-om-Pax's Contemporary Hardcore program on Saturday was equally great, transforming the usually soulless Globus club into a proper rave den with camouflage netting; here I caught Leisure System DJ Golden Medusa playing a tear-out jungle and hardcore set that had the room energized from start to finish. It was one of many sets that reflected the changing face of Berlin, a city that's largely associated with Berghain and Tresor but is fast becoming equally as known for the more adventurous, diverse booking policy of clubs like ://about blank and OHM. Atonal's high-concept AV shows will always be key part of the festival, but it's the weirder stuff further down the bill that's turned it one of the world's best festivals for music discovery.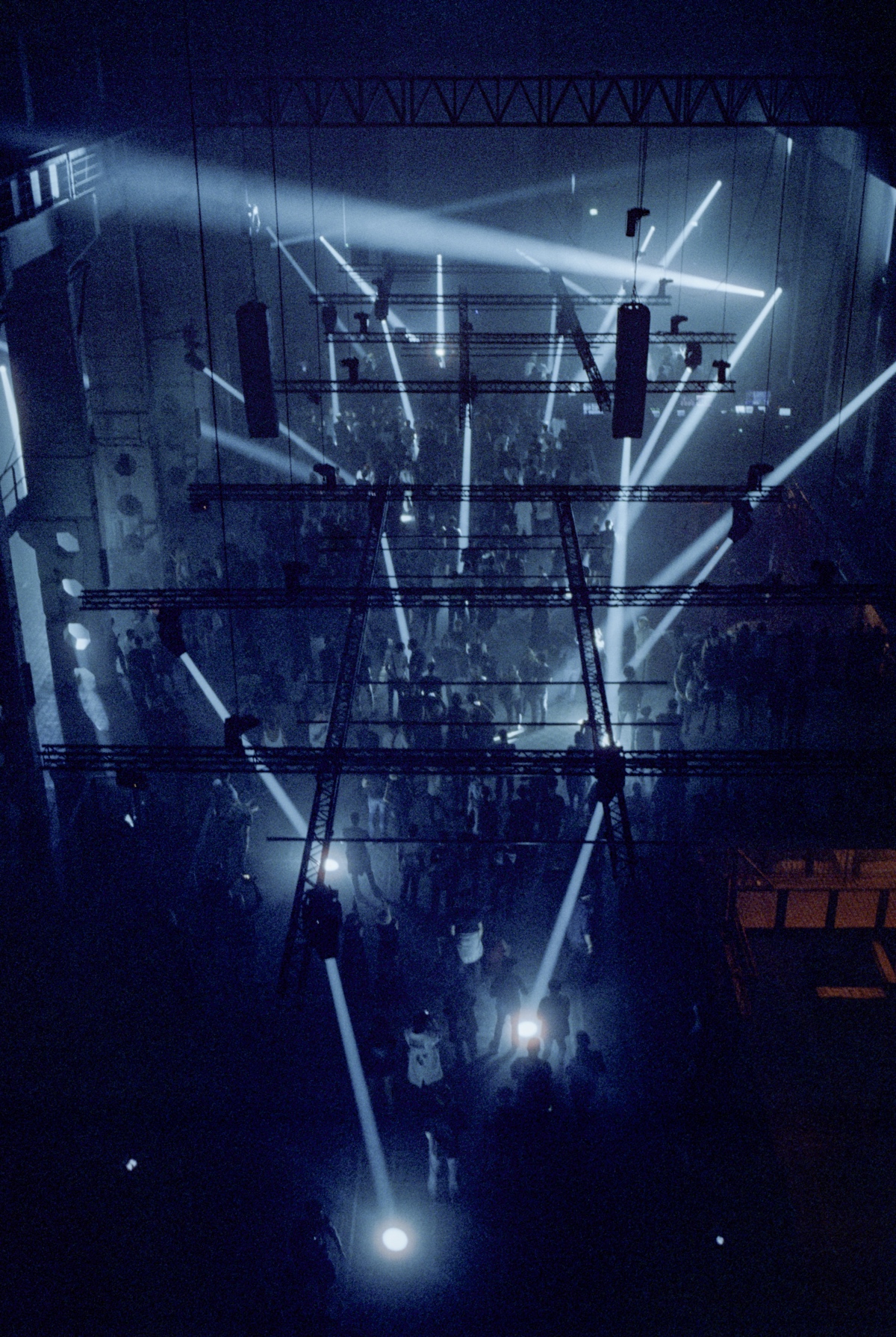 Photo gallery credits:
Caterina Barbieri, Robin Fox, Beatrice Dillon, ishi vu by Helge Mundt
Astrid Sonne, Outer Space, The Transcendence Orchestra, Actress, Aasthma by Cornelia Thonhauser
Golden Medusa by Isabel O'Toole
Scott Wilson is FACT's tech editor. Find him on Twitter
Read next: Watch exclusive live sessions from Berlin Atonal 2018