One of the minds behind Kid Cudi's sound, producer Dot Da Genius's influence has been stamped all over the last decade of hip-hop. Rae Witte spoke to the Brooklyn native about his humble beginnings and working with Cudi and Kanye West on their new collaborative album Kids See Ghosts.
Dot Da Genius says he isn't the type of person who would Insta-story his time in Wyoming. Sure, he shared a few videos of the open fields at Diamond Cross Ranch in Jackson Hole from the whirlwind ye listening party, but he kept the March weeks where he was in the studio with Kid Cudi, Travis Scott, Nas and The-Dream to himself. "Whenever I work with an artist I like to keep the process private out of respect. Some artists don't mind, but the last thing I want to make it about is the hype or social media. Some environments welcome it and I def might indulge if the timing is right but for the most part I'm focused on the music."
Dot's time spent in Wyoming was bountiful. He has production credits on ye's 'No Mistakes' and co-produced 'Reborn' and 'Cudi Montage' on West and Cudi's collaborative album Kids See Ghosts. Despite this slate of recent accomplishments, when Googled, the majority of the results for Dot Da Genius reveal tabloid fodder about his short-lived marriage to R&B singer Jhené Aiko — not that he produced Cudi's 2009 breakout hit, the paradigm-shifting 'Day N Nite' or that he was just nominated for the Best Urban Contemporary Album Grammy for his work on Atlanta up-and-comer 6LACK's Free 6LACK.
"I'm a very, very low-key person. Besides the music I've done, there was nothing on the internet about me and how I move and what I do," he says over video chat from Los Angeles. This applies to his brief marriage to R&B singer Jhené Aiko—sort of. Although they had a quiet relationship, their divorce was high profile gossip-fodder, including fan-generated rumors of Dot's infidelity. (Aiko denies those rumors.) "It was disheartening to see this narrative being started and people now try to the determine the type of person."
From humble beginnings in the East New York neighborhood of Brooklyn, New York, Dot Da Genius, real name Oladipo Omishore, was born to immigrant Nigerian parents. At age seven, his parents enrolled him in music school where he learned theory and how to play keys. "I don't think at the time I had a general interest in popular music and current music so I wasn't really like absorbing it," he says. "I wasn't allowed to watch TV during the weekdays, and we didn't have cable for awhile. I remember when we got cable, the first music video that really did something to me was Ginuwine's 'So Anxious'. Not even a hip-hop record."
Dot's older brother not only put him on some of his early favorites, he drove him to look at the songs differently than he had been. The next song he remembers being pivotal for him was Usher's 'My Way.' "I remember up until that point I wasn't really listening to music for messages and for the words. I was just listening to the overall fitting and I either liked it or I didn't. But this one my brother was like, 'Yo, listen to the words.' I guess he was like dealing with girl or something. So I listened to the words and thought this is very beautiful, like i felt something. It took me awhile to start pursuing it outside of my own world and what my parents had me doing."
Growing up in Brooklyn offered Dot the obvious '80s baby influences – The Notorious B.I.G. and Jay-Z, Puff Daddy and Mase – as well as homegrown Nigerian music that played at the house, but he was admittedly not listening to it too much on his own trying to fit in with his classmates in Brooklyn. "I was trying my hardest to assimilate and be American as possible. I was supposed to be naturally connected to be people that look like me and there was a connection, but there was also a lot of, 'Oh, you're African. I never met an African before.' Motherfucka, it's like we all from Africa. It was different."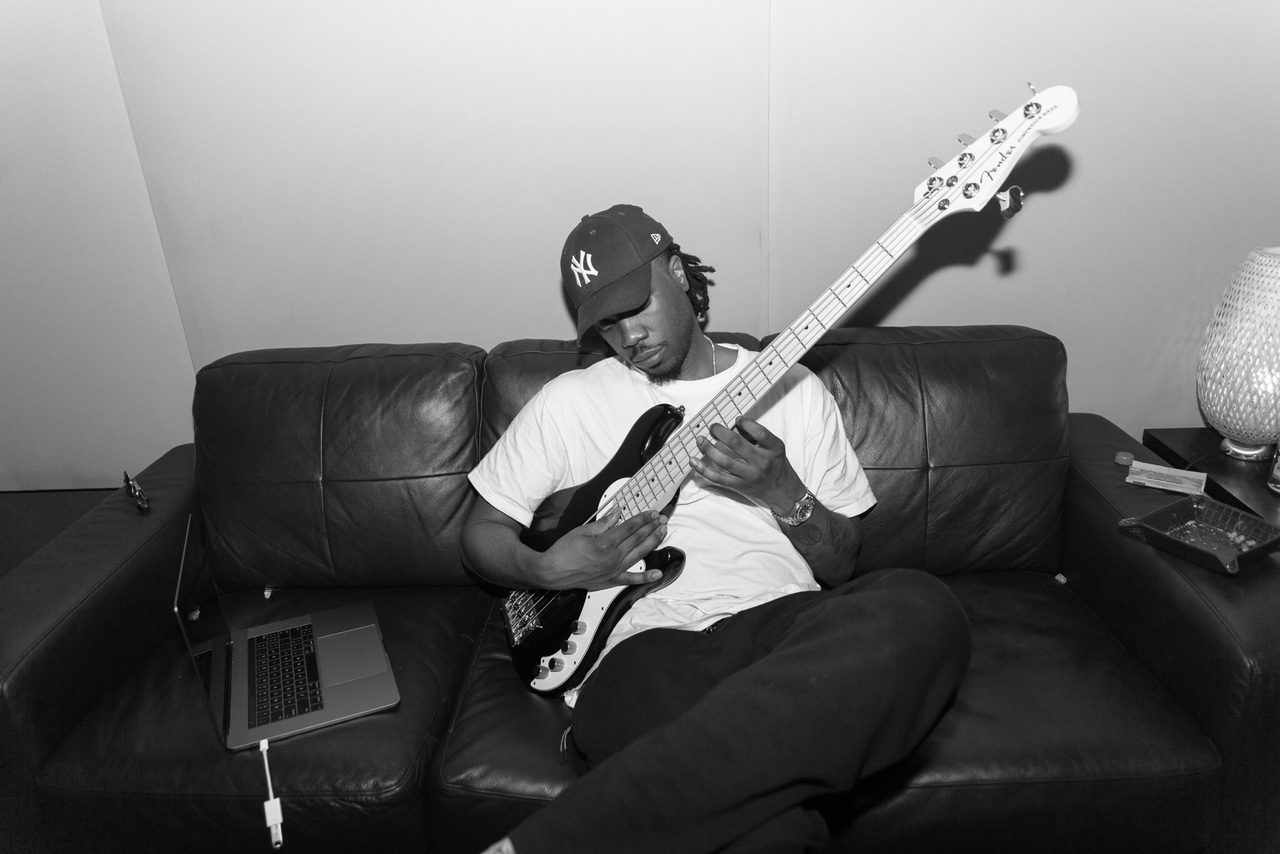 "Nothing mediocre will work for Kanye and Cudi and they will definitely let you know it"
In 2007, while in college for electrical engineering, playing basketball, and holding down a job with the gas company in New York, a mutual friend introduced Dot to Kid Cudi. "I had just started producing at the time and he came by my studio setup in my parents' living room. We had an immediate vibe and it continued from that day," he explains. Cudi would soon move in with Dot and his family. "Several months later he found out his landlord was evicting him and that he would have to go back to Cleveland. I brought it up to my dad and it was his idea for Cudi to stay with us. He saw how productive we were being as far as creating music and didn't want it to be disrupted."
Even with considerably different geographical influences, it was immediately clear how well the two musically complemented each other. As an Ohio native, Cudi's interests were geared more toward the West side of the country, specifically Bone Thugs-N-Harmony and Snoop Dogg. An interest in a particular budding producer from Chicago, however, was where they found common ground. "Kanye was a very big unifier in our interests as musicians," Dot says. "He was definitely was on another level and we both took notice."
Dot cites major players like Pharrell and Swizz Beatz as influences, but the hits of 2007 were also a landmark inspiration for Dot: "I remember when T-Pain's 'Buy U a Drank' came out and me and Cudi was like, 'Yo! This is incredible!'" But it was always Kanye who maintained Dot's interest in becoming a producer.
'Day N Nite' got some blog traction in 2008 before a Crookers remix on Fool's Gold catapulted it into a full-blown hit a year later, ultimately landing Cudi on Kanye's G.O.O.D. Music roster and Dot a major publishing deal with Universal Music Group. Almost immediately, he'd partner with engineer Andrew Krivonos and open Brewery Studios in Williamsburg.
After five years working out of New York, in 2014 Dot relocated to Los Angeles where he developed a relationship with Aiko. In 2016, the two got married in March before swiftly filing for divorce later that year in August. Although their divorce wasn't finalized until October 2017, songs that they had worked on during the relationship landed on her latest project Trip. His presence in the album credits resuscitated the gossip about their relationship, which has long been frustrating for Dot. "A lot of publications ran the line 'Jhené divorces Dot', neglecting to fact-check what happened before papers were filed," he says. "I requested the divorce."
For years Dot kept to his usual discretions regarding the divorce, hoping that the gossip would die down and, for the most part, it has. "There was a story I had a secret family and it's like fam, my daughter is nine," he says. "I've been posting [online about] her since she was born, before I even got with Jhené. Our kids met and played — for awhile thought they were sisters."
Brewery Studios now has a Los Angeles location and HeadBanga Muzik, the label Dot started, now has material to release from R&B singer James Japan, Afrobeats artist Whiteboy Yusuf and multi-instrumentalist Mike Moore. Dot says, admittedly, he's been teasing music for some time, but that he is now ready to actually be the one in the spotlight. "In July, I'm dropping a song and I'm not looking back," he says. "I realized that when when we die, what happens with the music? I don't think anyone I know has the passwords to my computer or my hard drive."
After speaking uncharacteristically candidly about the last 10 years of his life, Dot is rather guarded in the days before Kids See Ghost drops. I text him Friday morning following the Los Angeles fireside listening party and ask how is feeling. "I feel AMAZING. People are losing they shit to my songs." And, they are, with some even saying the album is the best G.O.O.D. Music project of late, including Pusha T's Daytona. "Everything has been leading up to this, honestly," Dot notes triumphantly.
Following both Kanye's and Cudi's outspokenness about their issues with mental health, a track like standout 'Reborn' are hopeful for listeners, not just as fans, but for themselves.
"I just tried to make everything as epic sounding as possible. Kanye and Cudi are two of the best. Nothing mediocre will work for them and they will definitely let you know." Excitedly, he tells me, "KSG is a blessing to be a part of, and I know the music will help people." It's also a remarkable callback to the love for Kanye that Dot and Cudi have shared for over a decade. "Working with Kanye is an amazing experience. He is very thoughtful in his approach with music and a true professional. I feel like I've literally watched him grow in the industry and to be working with him is a blessing."
Rae Witte is Brooklyn-based writer covering music, style, art, sex and dating. Her work has appeared in i-D, Complex, Esquire, HighSnobiety, Teen Vogue, W Magazine, GQ, and DAZED. Find her on Twitter.
Read next: The Rap Round-up, May 2018: Post Malone's Beerbongs & Bentleys is a bummer