FACT Singles Club features a panel of writers rating and slating the biggest new tracks of the last seven days.
Like last week, we've had another contentious one on Singles Club. This week's selection split the committee with divisive prospects such as disco funk (from Nite Jewel), sparkly K-pop (from Loona yyxy and Grimes) and self-aware bubblegum electronics (from Dorian Electra).
DJ Paypal's fusion of footwork and R&B fared best, but was so hot it was pulled from the internet before all our reviewers even had a chance to listen. How rude.
---
Gorillaz – 'Humility' (feat. George Benson)
Michelle Lhooq: Gorillaz are at their best when they're radiating a contagious positivity, as on 'Humility'. George Benson's jazzy guitar picking style perfectly enhances the laid-back, upbeat vibe — how fitting that the music video opens with palm trees against a Los Angeles sky before cutting to Jack Black strumming a guitar by the ocean. This song sounds like laying back in a beach chair with a long "YAAAAS!" (7)
Caroline Whiteley: I always struggled to jump on the Gorillaz train. Something about the whole "fictional band" thing always put me off, but 'Humility' is a really decent pop song and I can't deny its warm summery charms, even if it sounds (and looks) like a soda commercial. (5)
Cameron Cook: First of all, can we talk about how the "new guitarist" for Gorillaz is literally just Ace, the green bully character from The Powerpuff Girls? As an animation nerd, Jamie Hewlett's character design has always been a huge attraction to the band for me, which is a good thing because this track is just fine. Not bad, just not on par with the kind of instant classics that we all know Gorillaz are capable of. That being said, I didn't really care for Humanz when it came out, and now I really like it, so maybe this new album will be a grower? (6.5)
Jesse Bernard: This is one of those collaborations you dream of happening but never believe it will. There's plenty of warm feeling in this track carried by Benson's guitar, which conjures a joyous mood. (8)
6.6
---
Nite Jewel – 'On Your Own'
Jesse Bernard: I immediately thought of '80s Madonna as soon as the beat dropped and Nite Jewel's vocal range came through. But with less cheesiness and a contemporary depth to the production, with synths and electric piano, it's firmly planted in 2018. (9)
Michelle Lhooq: Maybe the '80s disco-funk heads will dig this one, but I find myself wishing there was a touch of something spicier — or weirder — to cut the straight cheese oozing out of this perfectly benign, but ultimately throwaway, tune. (3)
Caroline Whiteley: Can't wait to hear this in the trailer of some high school movie or the next Urban Outfitters fashion film. (4.5)
Cameron Cook: I truly tip my hat to Nite Jewel — in the past decade, she has gone from an interesting player in a sea of late-'00s ethereal indie acts to cornering the market on retro-'80s pop funk. This track wouldn't seem out-of-place during a Fly Girls dance sequence on In Living Color, and her vocal performance is perfectly midway between Janet Jackson and Kylie Minogue. (7)
5.9
---
Loona yyxy – 'love4eva' (feat. Grimes)
Caroline Whiteley: This sounds like a natural progression for Grimes, no surprises here. As a no-shame fan of K-pop I am totally here for this. Where's Grimes in the music video though? It would have been fun for her to play a deranged school principal in this boarding school fantasy. (7)
Jesse Bernard: With K-pop's global popularity soaring at present, we're beginning to hear some heave early 2000s pop inspiration. Each member's bubbly vocal gives the song a vibrant and silky texture, and my ears are all the better for it. (6)
Cameron Cook: Unpopular opinion, but I'm still not quite sure where I stand with Grimes. Frankly, I was never really into her, then Art Angels happened and I flipped, then Musk happened and I can't deal, and now she's collaborating with K-pop idols (i.e. one of the only surefire ways into my cold android heart)? I can't find info on a Grimes production credit for this track, but there are traces of her signature icy beats, although the main attraction is the terminally upbeat delivery form the ladies of xxyx (the third Loona spin-off group, for those keeping track). Also loving the video's Picnic at Hanging Rock/The Prime of Miss Jean Brodie evil schoolgirl vibes. (7)
Michelle Lhooq: The K-pop factory is producing some of the catchiest bangers out there, and I'm 100% here for it. Still, I do wish I could hear more of Grimes' hand in this track — outside of the neon screeches in the dubstep-y breakdown towards the end, 'love4eva' isn't too distinct from other K-pop hits I jammed out to in Asia last summer. Still, I dare you not to dance to it. (6.5)
6.6
---
Dorian Electra – 'Career Boy'
Cameron Cook: I actually don't mind this, but it triggers one of my biggest pet peeves, which is semi-ironic, self-aware takes on trashy pop music. As someone who will profess their genuine love for the Vengaboys to anyone who will listen, I don't really need a layer of performance art to enjoy bombastic, thoroughly questionable pop — whenever I hear a song like this, it just makes me want to listen to Aqua or something and get the full experience. (6.5)
Michelle Lhooq: Dorian Electra is quickly becoming one of my favorite underground ingenues ever since I met her on the dancefloor of a PC Music warehouse party a few months back. With smart, satirical political commentary wrapped in a shiny pop package, 'Career Boy' perfectly encapsulates why she's ready to be the next quirky, queer-friendly art-pop star. (8)
Jesse Bernard: Unfortunately, the outlandish and avant-garde visuals fall short of saving the track, despite Dorian displaying some impressive vocals. (5)
Caroline Whiteley: This on the other hand, is so overtly cheesy and over the top in its pop excesses, that I can't resist bopping along. I also love the nod to the bro-ishness of corporate culture in the energy-drink-fuelled Dubstep break. (7)
6.6
---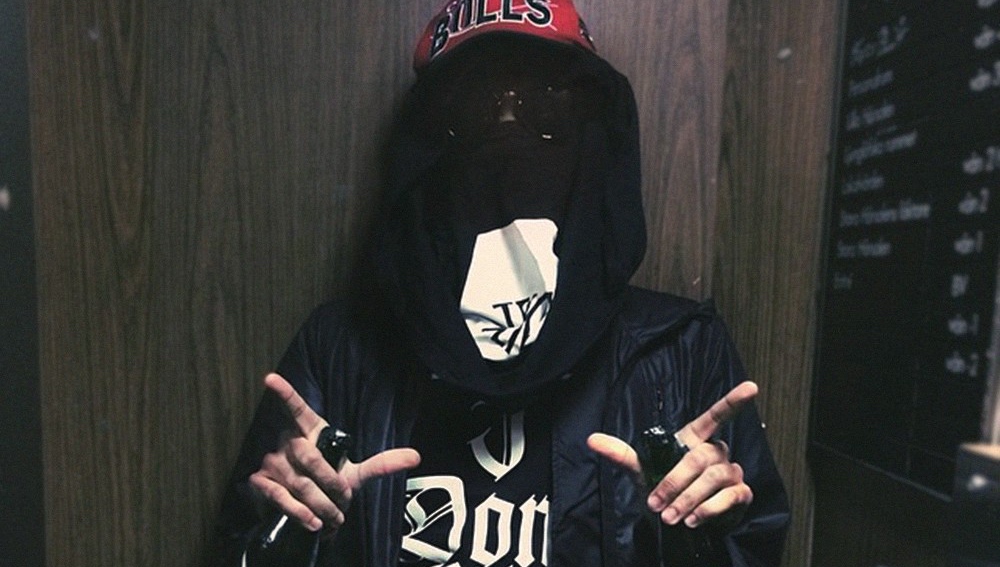 DJ Paypal – 'Just 4 The'
Michelle Lhooq: DJ Paypal has long been one of the freshest producers in the footwork game, and here he roams into '90s R&B territory, butter-smooth vocal samples gliding over mind-bogglingly complex rhythms with effortless glee. Also, all the tracks on his album are 4 minutes and 20 seconds long. 'Nuff said. (8.5)
Cameron Cook: OK, so I was just having a moment with the new All Saints single (sue me), which then led to a reacquaintance with their entire back catalogue — and then I put on this fire new DJ Paypal track, and you know what, they actually complimented each other perfectly. The distorted vocals on 'Just 4 The' sound like a '90s girl group headlining a Balearic rave, but with a cut-and-paste production flair that is decidedly rooted in 2018, and it makes me want to pass out in a pool tube at 8am after dancing all night. (7.5)
8
---
Final scores:
DJ Paypal – 'Just 4 The' (8)
Dorian Electra – 'Career Boy' (6.6)
Loona yyxy – 'love4eva' (feat. Grimes) (6.6)
Gorillaz – 'Humility' (feat. George Benson) (6.6)
Nite Jewel – 'On Your Own' (5.9)
---
Cameron Cook is an American culture journalist currently residing in Berlin, Germany. He would go to the ends of the Earth for Kate Bush. (@iamacameron)
Caroline Whiteley is a freelance writer based in Berlin. (@carowhiteley)
Jesse Bernard is freelance music and culture journalist based in Brooklyn and London, still hotsteppin' in a Nike Air sneaker. (@MarvinsCorridor)
Michelle Lhooq is an LA-based journalist writing about music and weed. (@MichelleLhooq)
Read next: The Rap Round-up, April 2018 – Cardi B is here to stay, Xanax may be out the door