Few people are onto great records as quickly as a great record store.
After years spent discovering gems in Phonica's end of year lists, it made sense to give them a regular space on FACT. Every Saturday, staff from the Soho institution pick out the five vinyl records you should grab this week.
---

NPLGNN
'1925' 12″
(OKNO)
OKNO bosses Laetitia Deering and Abi Thompson, sometimes to be found behind the counter at Phonica Records, inaugurate their label with a 12″ of sandblasted techno from rising Naples producer NPLGNN, who delivers three slabs of kickdrum-heavy, needles-in-the-red rave energy.
---

DREXCIYA
'Black Sea/Wavejumper' 12″
(Clone Aqualung Series)
Sometimes you just need to throw a few dystopian underwater electro-bubblers in the pot, right? Here we have alternate mixes of two classic Drexciya tracks, 'Black Sea' and 'Wavejumper', plus another footstep in the 'Unknown Journey'.
---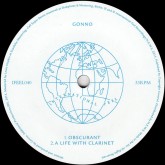 GONNO
'Obscurant (Call Super Remix)' 12″
(International Feel)
Japanese producer Gonno finally follows up 2011's underground smasher 'Acidse' with 'Obscurant', a Reichian long-spooler that unfurls like a charm and comes with a deep and dubby remix from Call Super plus a dreamy, breaks-tinged B-side, 'A Life In Clarinet'.
---

RED AXES
'Pil Sagol' 12″
(Hivern Discs)
Barcelona's Hivern Discs welcomes Red Axes for a trio of strange'n'deranged adventures in house, from gliding xylophones and playful percussion to parping bass and spooky pads – it's thought-garbling stuff to really fuck with the dancefloor.
---

PANORAM
Background Story LP
(Wandering Eye)
Phonica has got some limited test pressings of the new album from Rome's Panoram, an exquisite record of synth-soaked driftings, boogiefied Badalamenti and leftfield cosmic waves, which follows last year's blissed-out sophomore LP 'Everyone Is A Door'.